What Our Buyers Are Looking For
We don't always have what buyers are looking for. In these cases, after speaking with them, we log their criteria in our database which is always searching the new vessels we bring online.

If you have a vessel you would like to sell, please take a moment to enter a few brief details on this page and see if we have an active buyer looking for your vessel right now.

Look at Our Current Interests
Most Popular Posts
View All
Actual Feedback
Yolanda P. From
West Palm Beach, FL

Today at 2:42 PM

Dear Captain Mark,Paul has been outstanding in his follow-up. I sincerely hope to do business with him in the future. After 30 years in this business it is great to find brokers cooperating with ea...


Mike B. From
East Hampton, CT



Today at 1:29 PM

Sunny, I am casually looking and I have not responded to any of his emails. He has not not been annoyingly aggressive nor absent. He just sent a couple emails letting me know he was there to help.W...


Dan D.



Yesterday at 7:23 PM

Captain Mark,Thanks for asking. Christopher was quick to reply and sent a few ideas. I am being very particular with what I am looking for and am quite confident that CHristopher will come through ...


Jeffrey Wayne L. From
Pensacola, FL



Yesterday at 5:22 PM

I met with Dave today and he gathered all the necessary information that he needed. He was polite and professional.Thank you for the help,


Charles and Carole E. From
Minneapolis, MN



Yesterday at 3:12 PM

We are extremely satisfied with your company and would recommend it to any of our friends. Everyone that we have dealt with have been very professional and helpful. Thank you and best of luck grow...
View All Recent Feedback
Actually Satisfied

This time last year we were running around buying my boat before the winter set in .The Robalo 265 that I own is on even footing with a Haines or a seafarer here in Australia for finish fishability and sea keeping and the best of all its a third of the price in the states compared to here in Australia so you can get a whole lot of boat for a lot less money . And last and by far not the least the amount of remarks saying how good the Robalo looks when ever I am at the harbour launching it or just cruising is fantastic just knowing that every one wants a boat just like the one I own . So don't be worried if the boat of your dreams is on the other side of the world as long as Bernie peacock and pop yachts is who you are buying the boat from you won't have any problems.

Rodney G (Queensland, Australia)
Bank-Owned & Short Sales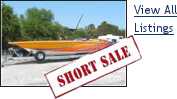 Vessels Over $100,000 For Sale



2000 NANTUCKET LIGHTSHIP WLV-612 - Original Construction 1950


128' Megayacht
Photos: 65
Location: Barnstable County, MA
Hours: 100




1984 Custom Built 120 Steam Powered Paddle Wheel


120' 8" Other, White
Photos: 129
Location: King County, WA


8,100,000 EUR

7,500,000 EUR




2013 Sovereign 109 Sportfish Yacht


109' Megayacht, White
Photos: 31
Location: New Zealand
Hours: 0


3,312,000 EUR

2,300,000 EUR




2006 SY Yachts 39m Yacht


105' Yacht
Photos: 56
Location: Yalikavak, Turkey




1975 Swiftship 105 Salvage Vessel


105' Salvage
Photos: 121
Location: Lee County, FL
Hours: 200




2011 AIBS 100 Motor Yacht


100' Megayacht
Photos: 14
Location: Greece
Hours: 0




2000 Stardust 1793 Custom 96' WB


96' Houseboat, White / Red & Green Trim
Photos: 50
Location: Oconee County, SC
Hours: 176


2,000,000 EUR

1,755,000 EUR




2008 Falcon 90 Rina


90' Megayacht
Photos: 47
Location: Clearfield County
Hours: 450




1963 Hydrofoil 27M 58 Passenger


89' Charter
Photos: 10
Location: Kaunas, Lithuania
Hours: 30




1962 Western Boat Works 85 W Garden Nereus Motorsailor


85' Charter, Blue/white
Photos: 24
Location: Panama
Hours: 2,000




2006 Sharpe 84 foot Houseboat


85' Houseboat
Photos: 17
Location: Santa Clara County, CA
Hours: 115




2007 SY Yachts 26m Gulet


85' Yacht
Photos: 11
Location: Yalikavak, Turkey




1998 Stardust 79x16


79' Houseboat
Photos: 116
Location: Hall County, GA
Hours: 300




1990 Lazydays 78' Custom Cruiser Houseboat


78' Houseboat
Photos: 45
Location: Barbour County, AL




1980 Desco 75 Trawler


75' Shrimp Boat, White/red
Photos: 120
Location: Charleston County, SC
Hours: 250




1990 Terrebonne 75 Long Range Cruiser


74' 6" Pilothouse
Photos: 73
Location: Coos County, OR




1973 Master Marine 75 Motoryacht


75' Motoryacht, White
Photos: 163
Location: Mobile County, AL




2011 Queens Yachts Q72


70' 5" Aft Cabin
Photos: 10
Location: Greece
Hours: 0




1970 John Perry Custom 72 Steel Ketch


72' Ketch, White
Photos: 13




1996 Azimut 70 Sea Jet


70' Motoryacht
Photos: 23
Location: Saint Johns County, FL
Hours: 3,100




1983 Hydrofoil 21M 45 Passenger Custom


69' 7" Charter
Photos: 36
Location: Kaunas, Lithuania




1987 Ocean Alexander 71 Cockpit Motoryacht


71' Motoryacht, White
Photos: 136
Location: Virginia Beach City County, VA
Hours: 500




2011 Ladenstein L68


68' 11" Motoryacht
Photos: 37
Location: Greece
Hours: 0




1998 New Orleans Custom Houseboat


67' Houseboat
Photos: 92
Location: New Hanover County, NC




1938 Rhodes 65


65' 2" Motorsailer
Photos: 82
Location: San Diego County, CA




1990 Lazydays High Bow


68' Houseboat
Photos: 132
Location: Hall County, GA
Hours: 755




1998 Sumerset 65


65' Houseboat
Photos: 34
Location: Bullhead City,, AZ
Hours: 260




2007 Dominator 64 S


64' Motoryacht
Photos: 10
Location: Greece




2007 Custom 57 House Boat


57' Houseboat, White/blue
Photos: 20
Location: Carteret County, NC
Hours: 350




2012 AIBS 62' Sport Lobster


62' Motoryacht
Photos: 17
Location: Turkey