What Our Buyers Are Looking For
We don't always have what buyers are looking for. In these cases, after speaking with them, we log their criteria in our database which is always searching the new vessels we bring online.

If you have a vessel you would like to sell, please take a moment to enter a few brief details on this page and see if we have an active buyer looking for your vessel right now.

Look at Our Current Interests
Most Popular Posts
View All
Actual Feedback
Dave M. From
Palm Bay, FL

Yesterday at 12:31 PM

Mark, Yes. Marino is taking VERY good care of me. He knows what I am looking for and is consistent in sending me only those options within my stated guidelines. As I told Marino, I will be purchasi...


Bruce Z. From
Netherlands Antilles



Yesterday at 11:12 AM

So far the experience has been great. No complaints. I look forward to finding the perfect boat through Pop Yachts.


Paul R. From
Milwaukee, WI



Yesterday at 10:28 AM

Brad is doing fine so far. Responsive and also asked a great question. What am I looking for in my next boat? Very good question and shows he is not just trying to push something on a buyer. Keep ...


Traci M. From
O Fallon, MO



Yesterday at 10:17 AM

Good morning, Brad has been great so far. He's been very responsive. He's in the process of scheduling some time for us to see the boat.


Josh C.



Yesterday at 9:46 AM

Mark, Thanks for the email. Mike is doing fine. I just haven't seen anything I really want. I think I really want a nautique 206. I would settle for a malibu if it was the right one.
View All Recent Feedback
Actually Satisfied

My first contact was with Kevin Stigall. He explained the entire buying process from an offer to closing. He has been quick to reply to my emails and phone calls. He had an offer ready for me to sign in a matter of hours. The instructions for the wire transfer were easy to understand. Upon my request, Kevin pointed us to a list of licensed Marine Surveyors. We are from out of state and had no idea where to find these services.

Jack McCurdy was on hand during sea trails, and he was most helpful during this process. He explained the acceptance document and pointed out key points about the boat. I could tell Jack loves boats as much as I do. It's great to work with someone that enjoys his job.

Erica Post handled the closing coordination with speed! She found a transport company and also handled the 90 day decals for us. She has been very helpful during this process.

Thank you for such great service. I have been happy from the moment I received the first email about the price reduction on the 36 Carver. I have been very impressed with the speed and helpfulness your company has provided.

Ronn and Sandy F. (Norman, Oklahoma)
Bank-Owned & Short Sales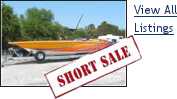 search



1997 Baja 39


39' High Performance
Photos: 5
Location: Maricopa County, AZ




1991 Baja 420 ES


42' 6" High Performance
Photos: 27
Location: Monroe County, MI
Hours: 600




1991 Baja 420 ES


44' 6" High Performance, White/red
Photos: 10
Location: Shiawassee County, MI
Hours: 670




1999 Baja 38


38' High Performance
Photos: 104
Location: Orange County, CA
Hours: 10




1995 Baja 38 Special


38' High Performance, White
Photos: 187
Location: Saint Bernard Parish, LA
Hours: 3




1995 Baja 38 Special


35' 3" High Performance, White/pink/purple
Photos: 16
Location: Chester County, PA




2001 Baja 38 Special


37' 7" High Performance, Yellow/white
Photos: 89
Location: Marion County, OR
Hours: 630




1998 Baja 36 Outlaw SST


35' 7" High Performance
Photos: 64
Location: Atlantic County, NJ
Hours: 294




2001 Baja 36 Outlaw Poker Run Edition


36' High Performance, Yellow, Purple
Photos: 195
Location: Lake County, FL
Hours: 119




1999 Baja 36 Outlaw SST


36' High Performance, White
Photos: 18
Location: Parker County, TX
Hours: 240




2001 Baja 36 Outlaw


36' High Performance, White Gelcoat
Photos: 68
Location: Pinellas County, FL
Hours: 350




2007 Baja 35 OUTLAW SST


37' 1" High Performance
Photos: 32
Location: Laclede County, MO
Hours: 102




2008 Baja 35 SS


35' High Performance
Photos: 68
Location: Vancouver, BC
Hours: 102




2000 Baja 342


34' 2" High Performance, White
Photos: 29
Location: Grayson County, TX
Hours: 400




2005 Baja 342 Boss


34' 2" High Performance
Photos: 115
Location: Tarrant County, TX
Hours: 224




2000 Baja 342 Boss


34' 2" High Performance
Photos: 13
Location: Denton County, TX




2002 Baja 342 Boss


34' 2" High Performance, White/red
Photos: 71
Location: Assumption Parish, LA
Hours: 392




1999 Baja 33 Outlaw


33' High Performance, White
Photos: 78
Location: Niagara County, NY
Hours: 211




1992 Baja 32 Off Shore


32' High Performance, White
Photos: 14
Location: Macomb County, MI
Hours: 645




1993 Baja 320 OS


32' High Performance
Photos: 6
Location: Sussex County, NJ
Hours: 600




1994 Baja 32 Caliber


32' High Performance
Photos: 125
Location: Dearborn County, IN
Hours: 200




1999 Baja 322 Twin Engine


31' 10" High Performance, White W/graphics
Photos: 6
Location: Macomb County, MI
Hours: 700




2005 Baja 30 Outlaw


30' 1" High Performance
Photos: 64
Location: Comal County, TX
Hours: 289




2006 Baja 30 Outlaw


32' High Performance
Photos: 21
Location: New Haven County, CT
Hours: 150




1990 Baja 300 ES


32' High Performance
Photos: 125
Location: Maricopa County, AZ
Hours: 26




2008 Baja 30 Outlaw


30' 1" High Performance, White With Red/black
Photos: 7
Location: Lee County, FL
Hours: 600




1998 Baja 29 Outlaw


29' High Performance
Photos: 77
Location: Philadelphia County, PA
Hours: 450




1999 Baja 290 Outlaw


29' High Performance
Photos: 23
Location: Des Moines County, IA
Hours: 40




2004 Baja 292 Islander


29' High Performance
Photos: 137
Location: Travis County, TX
Hours: 420




1989 Baja 28 Sport


28' High Performance, White
Photos: 4
Location: Suffolk County, NY
Hours: 500