What Our Buyers Are Looking For
We don't always have what buyers are looking for. In these cases, after speaking with them, we log their criteria in our database which is always searching the new vessels we bring online.

If you have a vessel you would like to sell, please take a moment to enter a few brief details on this page and see if we have an active buyer looking for your vessel right now.

Look at Our Current Interests
Most Popular Posts
View All
Actual Feedback
Ben L. From
Springfield, VA

Today at 10:41 AM

Jacob is a good man, y'all are running a top notched business.


Geoffrey N. From
Orange Beach, AL



Today at 8:35 AM

Dave and I had a great visit, and I am more than pleased to work with him.


Denise N. From
Saint Augustine, FL



Yesterday at 3:31 PM

Hi Dean - Thomas has been very helpful - I really like that there is no pressure - he knows we are looking for a boat, sends emails asking questions but I do not get any feeling that he is trying t...


Richard P. From
Saginaw, MI



Yesterday at 1:36 PM

Mark, thanks for your response and Mike did get with me very quickly. I did buy a 2000 Campion 672 Explorer in Northern Michigan and got a great deal on it. But I do appreciate you web site and h...


Al V. From
Delray Beach, FL



Yesterday at 12:27 PM

Capt. Mark, your sales exec, Jim Grady, has been doing a good and professional job to this point in the transaction. I will be sure to contact directly if there is a need.
View All Recent Feedback
Actually Satisfied

Bernie was extremely patient. I was very fussy and took about 9 months to get exactly what I wanted. He went above and beyond to help and ensured the process ran as smoothly as possible. We were kept up to date at all times.

Bernie, you are an absolute credit to the company, and POP Yachts are the people to deal with if anyone is thinking of importing a boat to Australia. They made the whole process hassle free.

Rodney G. (Queensland, Australia)
Bank-Owned & Short Sales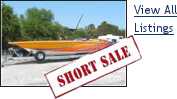 search



1993 Tracker 32


32' Pontoon Boat
Photos: 8
Location: Clackamas County, OR
Hours: 40




1992 Tracker 24 Custom Houseboat


24' Houseboat
Photos: 6
Location: Fort Bend County, TX




2008 Tracker 24 Party Barge


24' 7" Pontoon Boat
Photos: 44
Location: Los Angeles County, CA




2011 Tracker Z7 Nitro


18' 8" Bass Boat
Photos: 10
Location: Thurston County, WA
Hours: 15




2010 Tracker 175-V Pro Glide


16' 11" Bowrider
Photos: 8
Location: Los Angeles County, CA
Hours: 30

Your query only returned 5 listings. Get more results by entering less restrictive search criteria.