What Our Buyers Are Looking For
We don't always have what buyers are looking for. In these cases, after speaking with them, we log their criteria in our database which is always searching the new vessels we bring online.

If you have a vessel you would like to sell, please take a moment to enter a few brief details on this page and see if we have an active buyer looking for your vessel right now.

Look at Our Current Interests
Most Popular Posts
View All
Actual Feedback
Michael P. From
New York, NY

Yesterday at 6:22 PM

Hello Capt., I have contacted Marino and he has done the same via e-mail. He has answered a lot of questions in regards to the vessel I'm looking for. Thank you for the follow up.


Samuel Y.



Yesterday at 5:20 PM

Brad, I am doing great. Ethan is excellent, he has provided me with all the essential information that I need to help with my decision. Thank you so much.


TJ B. From
Albany, GA



Yesterday at 3:38 PM

Hello Capt. Scharwenka, the experience is going well. Chris really seems to know what he is doing. The only frustrating part is dealing with a seller who wants more than what the boat is worth, but...


Joe F. From
Port Elgin, Canada



Yesterday at 3:35 PM

Hi Capt. MarkBrad has been nothing but Helpful. Thanks for your follow up, on how I am being treated.


Doug W. From
Saraland, AL



Yesterday at 2:30 PM

We doing good.  I'm getting what I want narrowed down.  He has been showing me a good bit of boats.  Thanks to you guys for the help!!!
View All Recent Feedback
Actually Satisfied

Thank you so much. I have never dealt with such an efficient company.....ever. Now next time I will not need to come from Kenya to make any purchase. I have a lot of confidence in you. You are an amazing team.

God bless you.

Sammy M (Kenya)
Bank-Owned & Short Sales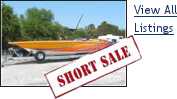 search



1989 Apache 41 High Performance


41' 3" High Performance
Photos: 74
Location: Atlantic County, NJ
Hours: 500




1989 Apache 414


41' 4" High Performance, White
Photos: 5
Location: Macomb County, MI
Hours: 100




2000 Apache 36 Warrior


38' High Performance, White & Graphics
Photos: 16
Location: Ottawa County, OH
Hours: 330




1989 Apache 28 Brave


28' High Performance, White/red/yellow/green
Photos: 125
Location: Palm Beach County, FL
Hours: 200

Your query only returned 4 listings. Get more results by entering less restrictive search criteria.