What Our Buyers Are Looking For
We don't always have what buyers are looking for. In these cases, after speaking with them, we log their criteria in our database which is always searching the new vessels we bring online.

If you have a vessel you would like to sell, please take a moment to enter a few brief details on this page and see if we have an active buyer looking for your vessel right now.

Look at Our Current Interests
Most Popular Posts
View All
Actual Feedback
Carl I. From
Reading, MA

Yesterday at 8:13 AM

Hello Marino. Yes...Chris is great. I just haven't found the right boat for me. It is my first one that will be kept at the condo that I am closing on in Ft. Lauderdale .


Gustavo A.



Yesterday at 7:11 AM

April has been great. Responded to my request, followed up with a phone call and corresponded with e-mail. will stay in touch


John G. From
Seattle, WA



Yesterday at 2:49 AM

I have been very impressed so far. A closed deal will make it even better.


Troy T. From
Perth, Australia



5/18/2013 10:22 PM

Thanks Kevin for your email, Being looked after well by Scott mate, no problems thus far. I am motivated to buy a boat and have sent over to Aus and theres a few on y...


Bernie S.



5/18/2013 9:57 PM

Hi Bruce, So far my experience has been quite good. Nicole is prompt in returning my messages and I'm happy with the level of customer service I've received so far.
View All Recent Feedback
Actually Satisfied

I have just recovered the boat at the port and I'm very satisfied. No problems and not of breakage. The boat is in very good condition!

Thank you for your work and your professionnalism. Now the lagoon of Caledonia will not have any more secrecy for my boat!

Fred L. (New Caledonia)
Bank-Owned & Short Sales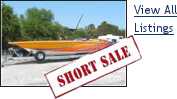 search



2000 NANTUCKET LIGHTSHIP WLV-612 - Original Construction 1950


128' Megayacht
Photos: 65
Location: Barnstable County, MA
Hours: 100




2007 Custom 57 House Boat


57' Houseboat, White/blue
Photos: 20
Location: Carteret County, NC
Hours: 350




1955 Custom 60 Chesapeake Bay Trawler


58' 3" Trawler, White
Photos: 117
Location: Miami Dade County, FL




2003 Custom Wedding Chapel


60' Power Catamaran, White/blue
Photos: 94
Location: Sarasota County, FL
Hours: 1,200




1985 Custom 57 Steel


57' Shrimp Boat, White
Photos: 146
Location: Jefferson County, TX
Hours: 2,000




1979 Custom 50 Houseboat


54' Houseboat
Photos: 8
Location: Stanislaus County, CA




2012 Custom 52 Catamaran


52' Catamaran
Photos: 25
Location: Monroe County, FL
Hours: 100




1965 Custom 50 Houseboat


50' Houseboat
Photos: 29
Location: Tuolumne County, CA
Hours: 108




1978 Custom 47 Cruiser


47' 4" Trawler
Photos: 85
Location: Jefferson County, TX




2013 Custom 50 Custom Houseboat


50' Houseboat
Photos: 18
Location: Hennepin County, MN
Hours: 0




2010 Custom Amazon 50


50' Trawler, Blue/grey
Photos: 166
Location: Lee County, FL
Hours: 350




2007 Custom 40 Houseboat


40' Houseboat
Photos: 18
Location: Butte County, CA




1997 Custom Tri-Level Houseboat-Barge


40' Houseboat, Wood
Photos: 11
Location: Jefferson County, WA




1998 Custom 39 Cat


39' Power Catamaran
Photos: 48
Location: Miami-Dade County, Fl




2004 Custom 38


38' Trawler, White
Photos: 77
Location: Nueces County, TX
Hours: 200




1976 Custom 37 Steel Lobster Boat


37' Lobster, Red/white
Photos: 39
Location: Knox County, ME
Hours: 5,616




1954 Custom 37 Tugboat


37' Antique and Classic
Photos: 146
Location: New London County, CT
Hours: 2,368




1973 Custom 1973/2004 36 Express Sport Fisherman


36' Sportfish/Convertible, White
Photos: 91
Location: Galveston County, TX
Hours: 540




1974 Custom 31 Swordfisher


31' 2" Other
Photos: 16
Location: Los Angeles County, CA




1995 Custom 35 Ketch


35' Ketch
Photos: 19
Location: Suffolk County, MA




1994 Custom 36


36' Houseboat
Photos: 5
Location: Monterey County, CA




1968 Custom USCG Certified Tour Boat


36' Charter
Photos: 111
Location: Pinellas County, FL
Hours: 0




2007 Custom Pilot And Crew Boat


31' Combination, Red
Photos: 103
Location: Essex County, MA




1980 Custom Val 31 Tri


31' Trimaran
Photos: 88
Location: Nassau County, NY




1983 Custom 35 Steel Pilothouse


35' Pilothouse, Tan Over Green
Photos: 89
Location: Beaufort County, NC
Hours: 2,032




2009 Custom 30 Work Boat


30' Utility, Aluminum
Photos: 77
Location: Iberville Parish, LA
Hours: 375




1984 Custom 28


28' Charter, White
Photos: 16
Location: Bronx County, NY
Hours: 500




1989 Custom 26 Gold Cup Race Boat


26' Antique and Classic, Mahogany
Photos: 86
Location: Worcester County, MA
Hours: 600




2008 Custom 24 Aluminum


26' Aluminum
Photos: 55
Location: Thurston County, WA
Hours: 200




2009 Custom 24


24' Barge
Photos: 3
Location: Macon County, IL