What Our Buyers Are Looking For
We don't always have what buyers are looking for. In these cases, after speaking with them, we log their criteria in our database which is always searching the new vessels we bring online.

If you have a vessel you would like to sell, please take a moment to enter a few brief details on this page and see if we have an active buyer looking for your vessel right now.

Look at Our Current Interests
Most Popular Posts
View All
Actual Feedback
Carl I. From
Reading, MA

Yesterday at 8:13 AM

Hello Marino. Yes...Chris is great. I just haven't found the right boat for me. It is my first one that will be kept at the condo that I am closing on in Ft. Lauderdale .


Gustavo A.



Yesterday at 7:11 AM

April has been great. Responded to my request, followed up with a phone call and corresponded with e-mail. will stay in touch


John G. From
Seattle, WA



Yesterday at 2:49 AM

I have been very impressed so far. A closed deal will make it even better.


Troy T. From
Perth, Australia



5/18/2013 10:22 PM

Thanks Kevin for your email, Being looked after well by Scott mate, no problems thus far. I am motivated to buy a boat and have sent over to Aus and theres a few on y...


Bernie S.



5/18/2013 9:57 PM

Hi Bruce, So far my experience has been quite good. Nicole is prompt in returning my messages and I'm happy with the level of customer service I've received so far.
View All Recent Feedback
Actually Satisfied

My first contact was with Kevin Stigall. He explained the entire buying process from an offer to closing. He has been quick to reply to my emails and phone calls. He had an offer ready for me to sign in a matter of hours. The instructions for the wire transfer were easy to understand. Upon my request, Kevin pointed us to a list of licensed Marine Surveyors. We are from out of state and had no idea where to find these services.

Jack McCurdy was on hand during sea trails, and he was most helpful during this process. He explained the acceptance document and pointed out key points about the boat. I could tell Jack loves boats as much as I do. It's great to work with someone that enjoys his job.

Erica Post handled the closing coordination with speed! She found a transport company and also handled the 90 day decals for us. She has been very helpful during this process.

Thank you for such great service. I have been happy from the moment I received the first email about the price reduction on the 36 Carver. I have been very impressed with the speed and helpfulness your company has provided.

Ronn and Sandy F. (Norman, Oklahoma)
Bank-Owned & Short Sales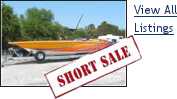 search



1991 Skater 40 Powerboat


40' High Performance
Photos: 31
Location: Fresno County, CA
Hours: 15




2001 Skater Off Shore Race Boat


36' High Performance, Black & Yellow
Photos: 169
Location: Gloucester County, NJ
Hours: 20




2000 Skater 32 Skater


32' High Performance
Photos: 76
Location: Pinellas County, FL
Hours: 8




1986 Skater 24


27' 4" High Performance, White/blue/yellow
Photos: 226
Location: Palm Beach County, FL
Hours: 10

Your query only returned 4 listings. Get more results by entering less restrictive search criteria.