What Our Buyers Are Looking For
We don't always have what buyers are looking for. In these cases, after speaking with them, we log their criteria in our database which is always searching the new vessels we bring online.

If you have a vessel you would like to sell, please take a moment to enter a few brief details on this page and see if we have an active buyer looking for your vessel right now.

Look at Our Current Interests
Most Popular Posts
View All
Actual Feedback
Alex L. From
Fort Lauderdale, FL

Today at 9:50 AM

I am still contemplating on whether to find a trade-in for my boat or sell it outright and then purchase something else. Mariono is doing a great job, the only thing stopping me from listing is me....


Tony T. From
Brunswick, GA



Today at 9:10 AM

yes he is, but my Marina does not have room for the boat at this time, I'm checking on bottom paint and wet storage


Bob H. From
Hebron, MD



Today at 9:07 AM

If I have a boat to sell in the future and want a broker I would consider POP.


Greg B.



Today at 8:39 AM

Andrew always gives me a quick response to my questions. He also researches pricing before making changes to my boat selling price.


Luke B.



Today at 8:28 AM

Nicole, Bob has reached out to me and has given me some good options on vessels. I appreciate your follow up and have nothing but positive remarks for Bob and your company. My wife and kids are loo...
View All Recent Feedback
Actually Satisfied

POP Yachts and Staff,

I would like to thank you for working with me on my recent purchase of my Donzi 35 zf. I have to admit, in the beginning I did not see the benefit of hiring a broker and thought that I would get a better deal working alone. I was definitely mistaken and quickly came to realize that your services were invaluable.

Your staff worked very hard to satisfy my requirements and to get my deal done, working with the seller and other parties involved to allow us to close very quickly. I could not have gotten all of this done on my own and I would have definitely overlooked some key aspect.

I would also like to thank Kevin and Ashley personally for their professionalism and putting up with my numerous requests for information on an almost hourly basis!

I will highly recommend your brokerage to anyone purchasing a boat and will return to use your services again in the future.

Steve F. (Philadelphia, PA)
Bank-Owned & Short Sales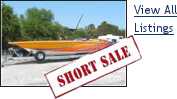 Recently Published



2008 Aluminum Marine 55 Marine Harbor Homes


55' Houseboat
Photos: 1
Location: Decatur County, GA




1965 Chris-Craft 46 Constellation


46' Motoryacht
Photos: 1
Location: Calcasieu County, LA




1985 Bertram Sportsfisherman


46' Sportfish/Convertible
Photos: 5
Location: San Patricio County, TX




1996 Baja 272 Islander


27' Bowrider
Photos: 4
Location: Plymouth County, MA




1988 Bluewater 44 MY


44' Aft Cabin
Photos: 8
Location: Deschutes County, OR




1970 Grand Banks 42


42' Trawler
Photos: 8
Location: Lake County, FL




1977 Cascade 42 High Side


42' 5" Ketch
Photos: 12
Location: Multnomah County, OR




1968 Avenger 39


39' Motoryacht
Photos: 10
Location: Flagler County, FL




1985 Sea Ray 390 Sedan Bridge


39' Motoryacht
Photos: 1
Location: Suffolk County, NY




2001 Sea Ray 380 AC


38' Aft Cabin
Photos: 66
Location: Dubuque County, IA




1989 Bayliner 3870


41' 9" Motoryacht
Photos: 8
Location: Baldwin County, AL




1992 Topaz 37


37' Sportfish/Convertible
Photos: 2
Location: Broward County, FL
Hours: 1,800




1984 Sea Ray 360 Aft Cabin


39' Aft Cabin
Photos: 1
Location: Brevard County, FL




2005 Nor-Tech 3600 Super Cat


36' High Performance
Photos: 10
Location: Ascension County, LA




1986 Egg Harbor 35


35' Sportfish/Convertible
Photos: 72
Location: Palm Beach County, FL
Hours: 1,100




1985 Irwin Yachts 34


34' 7" Cruiser
Photos: 1
Location: Kent County, MD




1978 Tollycraft 33 Convertible


33' 6" Sportfish/Convertible
Photos: 15
Location: King County, WA




1986 Cruisers 3370 Esprit


34' Express Cruiser
Photos: 12
Location: Prince William County, VA




1999 Silverton 33 Sportbridge


37' Sportfish/Convertible
Photos: 46
Location: Loudoun County, VA
Hours: 336




1966 Chris-Craft 32 Sea Skiff


32' Antique and Classic
Photos: 10
Location: Belknap County, NH




2006 Sun Tracker 32


32' Pontoon Boat
Photos: 12
Location: Knox County, TN
Hours: 80




1999 Pro-Line 3250 Express


33' 8" Sportfish/Convertible
Photos: 76
Location: Lee County, FL
Hours: 205




1990 Island Packet 32 Cutter


32' Cutter
Photos: 1
Location: Escambia County, FL




1989 Formula 311 SR1


31' High Performance
Photos: 8
Location: Bronx County, NY




1988 Tiara 3100 LE


34' Express Cruiser
Photos: 9
Location: Monroe County, MI




2001 Contender 31 Open


32' 6" Center Console, White
Photos: 124
Location: Saint Lucie County, FL
Hours: 1,206




1992 Sea Ray 31SS


31' 2" Express Cruiser
Photos: 4
Location: Camden County, MO
Hours: 680




1999 Velocity 24


24' 2" High Performance
Photos: 8
Location: Clay County, FL




1985 Lippincott 30 SD


30' Sloop
Photos: 13
Location: Bucks County, PA




2004 High Torque Marine Sl 306


30' High Performance
Photos: 19
Location: Orange County, CA
Hours: 20