What Our Buyers Are Looking For
We don't always have what buyers are looking for. In these cases, after speaking with them, we log their criteria in our database which is always searching the new vessels we bring online.

If you have a vessel you would like to sell, please take a moment to enter a few brief details on this page and see if we have an active buyer looking for your vessel right now.

Look at Our Current Interests
Most Popular Posts
View All
Actual Feedback
Yolanda P. From
West Palm Beach, FL

Today at 2:42 PM

Dear Captain Mark,Paul has been outstanding in his follow-up. I sincerely hope to do business with him in the future. After 30 years in this business it is great to find brokers cooperating with ea...


Mike B. From
East Hampton, CT



Today at 1:29 PM

Sunny, I am casually looking and I have not responded to any of his emails. He has not not been annoyingly aggressive nor absent. He just sent a couple emails letting me know he was there to help.W...


Dan D.



Yesterday at 7:23 PM

Captain Mark,Thanks for asking. Christopher was quick to reply and sent a few ideas. I am being very particular with what I am looking for and am quite confident that CHristopher will come through ...


Jeffrey Wayne L. From
Pensacola, FL



Yesterday at 5:22 PM

I met with Dave today and he gathered all the necessary information that he needed. He was polite and professional.Thank you for the help,


Charles and Carole E. From
Minneapolis, MN



Yesterday at 3:12 PM

We are extremely satisfied with your company and would recommend it to any of our friends. Everyone that we have dealt with have been very professional and helpful. Thank you and best of luck grow...
View All Recent Feedback
Actually Satisfied

This time last year we were running around buying my boat before the winter set in .The Robalo 265 that I own is on even footing with a Haines or a seafarer here in Australia for finish fishability and sea keeping and the best of all its a third of the price in the states compared to here in Australia so you can get a whole lot of boat for a lot less money . And last and by far not the least the amount of remarks saying how good the Robalo looks when ever I am at the harbour launching it or just cruising is fantastic just knowing that every one wants a boat just like the one I own . So don't be worried if the boat of your dreams is on the other side of the world as long as Bernie peacock and pop yachts is who you are buying the boat from you won't have any problems.

Rodney G (Queensland, Australia)
Bank-Owned & Short Sales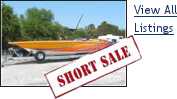 search



1981 C & C 40


40' Other
Photos: 92
Location: Saint Johns County, FL
Hours: 50




1990 Beneteau 390 Oceanis


38' 3" Other, White / Red Accent
Photos: 89
Location: Mcintosh County, OK
Hours: 750




1977 Willard 32 Sailing Trawler


32' 8" Other
Photos: 97
Location: Monroe County, FL
Hours: 4,000




1959 Chinese Junk Hong Kong Junk


30' Other
Photos: 84
Location: Marin County, CA
Hours: 50




1985 Nonsuch 26 Classic


26' Other, White/blue
Photos: 69
Location: Sarasota County, FL

Your query only returned 5 listings. Get more results by entering less restrictive search criteria.