What Our Buyers Are Looking For
We don't always have what buyers are looking for. In these cases, after speaking with them, we log their criteria in our database which is always searching the new vessels we bring online.

If you have a vessel you would like to sell, please take a moment to enter a few brief details on this page and see if we have an active buyer looking for your vessel right now.

Look at Our Current Interests
Most Popular Posts
View All
Actual Feedback
Michael P. From
New York, NY

Today at 6:22 PM

Hello Capt., I have contacted Marino and he has done the same via e-mail. He has answered a lot of questions in regards to the vessel I'm looking for. Thank you for the follow up.


Samuel Y.



Today at 5:20 PM

Brad, I am doing great. Ethan is excellent, he has provided me with all the essential information that I need to help with my decision. Thank you so much.


TJ B. From
Albany, GA



Today at 3:38 PM

Hello Capt. Scharwenka, the experience is going well. Chris really seems to know what he is doing. The only frustrating part is dealing with a seller who wants more than what the boat is worth, but...


Joe F. From
Port Elgin, Canada



Today at 3:35 PM

Hi Capt. MarkBrad has been nothing but Helpful. Thanks for your follow up, on how I am being treated.


Doug W. From
Saraland, AL



Today at 2:30 PM

We doing good.  I'm getting what I want narrowed down.  He has been showing me a good bit of boats.  Thanks to you guys for the help!!!
View All Recent Feedback
Actually Satisfied

I can't thank everyone enough for making this purchase happen. The distance between buyer and seller made this a difficult transaction for your team and yet you made it easy and successful for me. I could not be happier with the attention and professionalism PopYachts gave me. My thanks to you Mike and all on your team that worked hard to accomplish this purchase.

I will recommend all I know in the boat market to work through you. Thanks again.

Allen T (Flint, Michigan)
Bank-Owned & Short Sales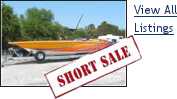 search



1988 Carver 4207 Aft Cabin


42' Aft Cabin, White
Photos: 19
Location: Lyon County, KY
Hours: 1,600




1977 Chris-Craft 41 commander aft cabin


41' Motoryacht
Photos: 76
Location: Trigg County, KY
Hours: 1,064




1989 Ocean Express 3900 Cat


39' High Performance, White, Red, Blue, Green
Photos: 59
Location: Jefferson County, KY
Hours: 40

Your query only returned 3 listings. Get more results by entering less restrictive search criteria.